Portuguese Water Dog
Portuguese Water Dog
It is sometimes thought that the Portuguese Water Dog is an ancestor of the Barbet, but not all theorists share this opinion. It is clear, however, that the Cão de Agua is an ancient breed which as existed in Portugal for centuries, maybe even before the time of Christ. Similar water dogs are believed to be connected to the Romans as "canis piscator". There are speculations that Phoenicians brought these dogs to Rome, from where they spread to Portugal, but this theory is difficult to prove.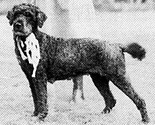 The Portuguese Water Dog may even have been brought directly to the Iberian Peninsula by the Moors. Algarve fishermen have long found it very helpful, especially because of the good swimming skills that allowed it to be used for communication between ship and land. Such dogs helped fishermen lay out their nets in the water, and dived in deep water to retrieve fallen objects. When fog was thick, they would bark in the bow of the ship to prevent collisions. In the evenings, they would take care of fishermen's belongings and of their catch. In the present day, due to technological advances, there is no longer a need for these dogs to guard boats or perform all of their historical tasks, but they are still capable of demonstrating such skills in Water Tests.

This dog's size is medium, with an average height of 50 – 57cm in males and 43 – 52 in females. Their weight varies from 16 and 25kg. The Portuguese Water Dog's build is quite muscled due to its penchant for swimming. The coat is thick and comes in two types: fairly long and wavy, with a fine sheen, or somewhat shorter with rough, thick, compact curls and not shiny. These dogs may be either dark (black or brown), or all white. Darker dogs might have some white markings as well. The tail is undocked, and if it is very short or missing the dog may not be shown, as Portuguese Water Dogs carry their tails curved over their backs, which is not preferred for Poodles. Their temperament is attentive, playful, and affectionate.